Split, Croatia
A collection of photos for our first holiday abroad post-pandemic.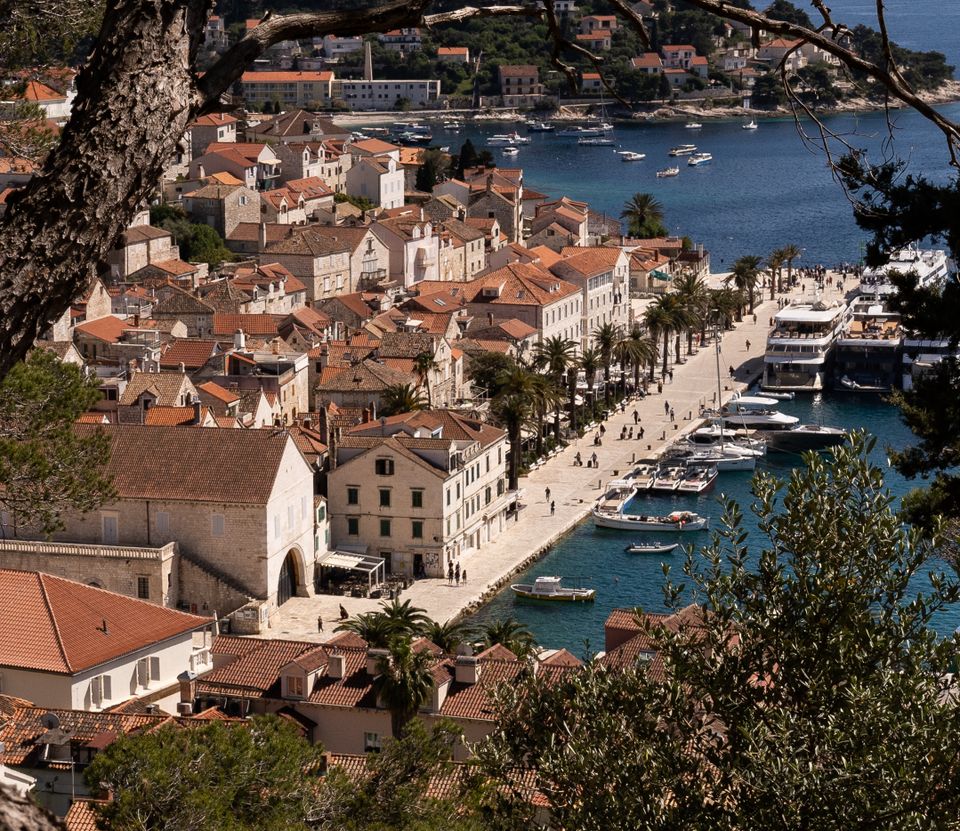 We had been planning to visit Croatia for almost two years before this trip actually happened; it had originally been scheduled for June 2021 however the vaccine rollout wasn't where we had hoped and the flights were cancelled.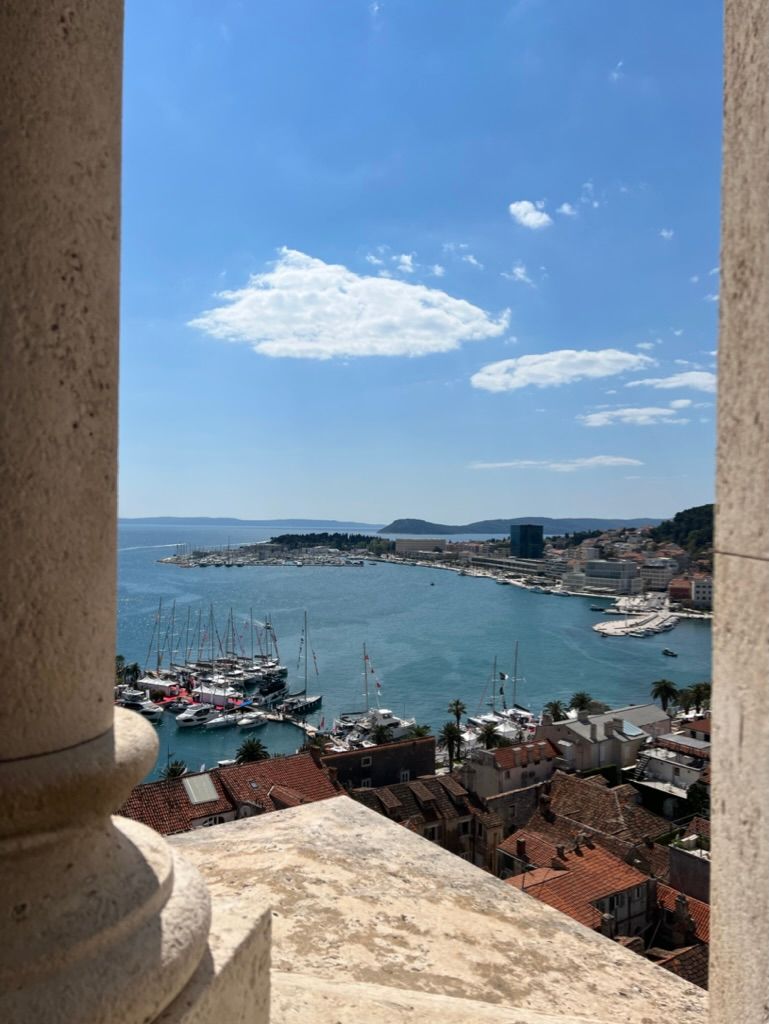 Almost a year later, we were finally able to travel to Split, Croatia for a week in the sun exploring a new country.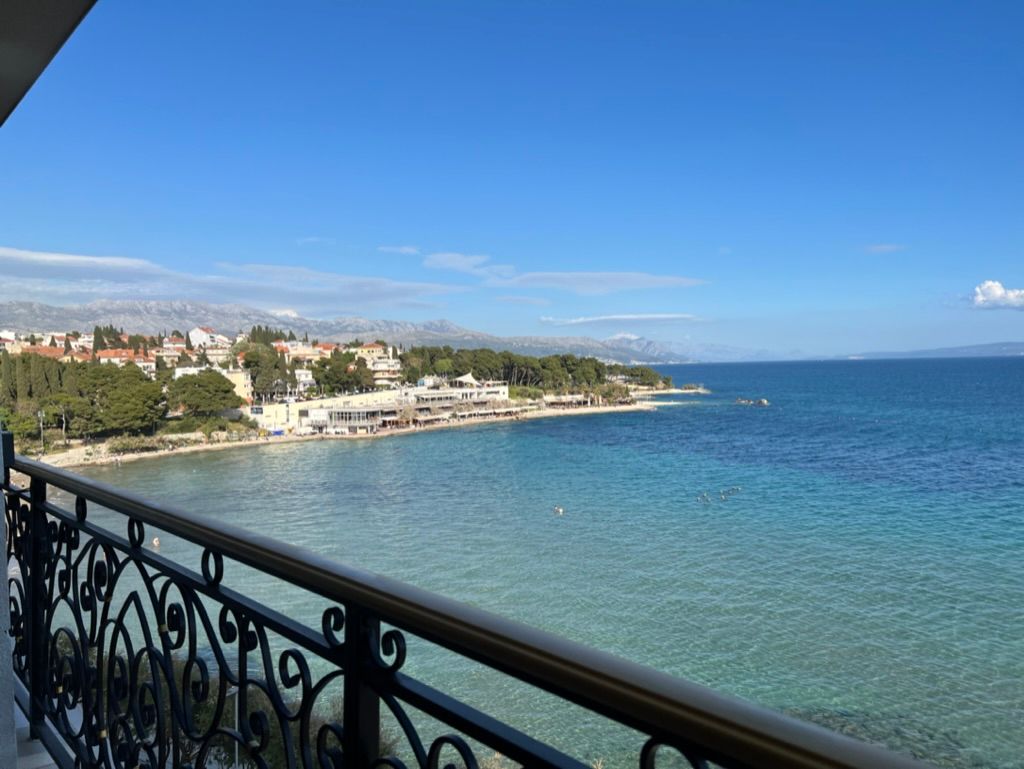 As much as I love the standard British holiday to Spain, I love travelling to new countries and experiencing new cultures more. This feeds directly into a decoration scratch map we have in the living room; we need to travel to new countries so we can scratch more off!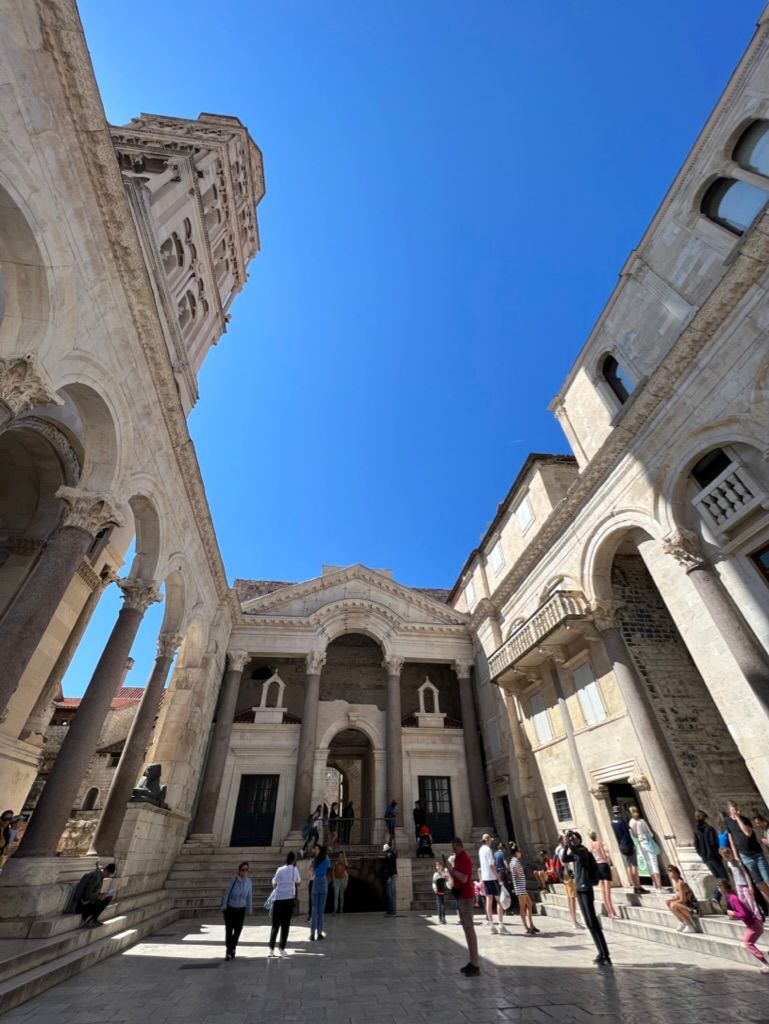 We spent most of our time hanging out at the marble steps of Diocletian's Palace; it was built in the 4th Century and the architecture is absolutely stunning.
On the first night we arrived, there was live music playing from Lvxor and the atmosphere was magical. They have cushions and small tables on the steps so that visitors can sit comfortably and listen to the music. This was absolutely the highlight of the trip for me.
We thought we just happened to time it right, but live music played here every night so we were able to enjoy a glass of wine and some ice cream most nights while we were there.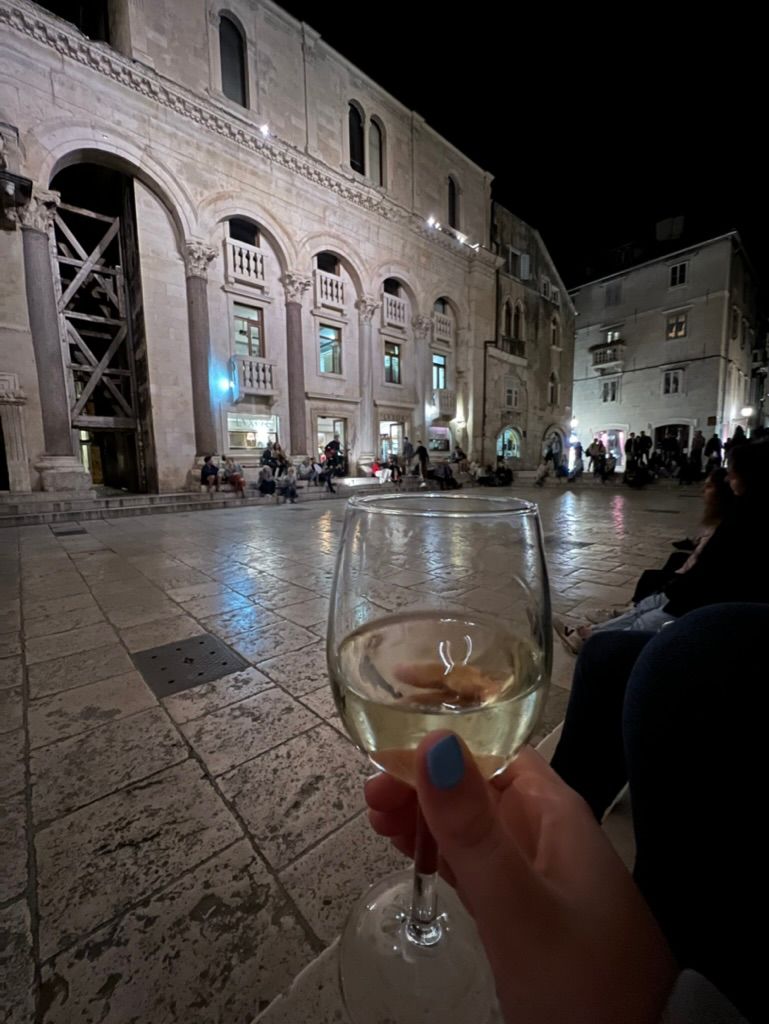 During our initial investigation into things to do in Split back in 2020, we found that Froggyland was in the top 10 things to do (seriously). So obviously it became an obsession that we had to visit Froggyland when we got here.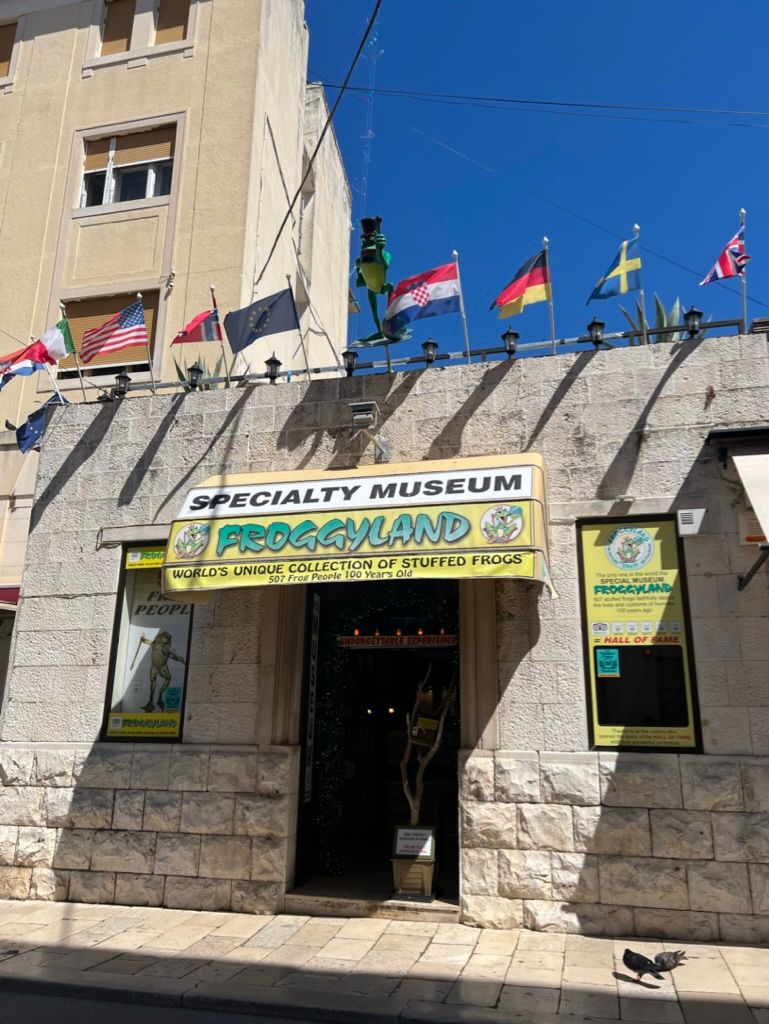 Due to the nature of the museum, photographs are not allowed inside so you'll just have to trust me when I say this: it was so great! The mixture of humour and not so great translations adds to the experience, and if you take it for what it is then you'll have a great time. 🐸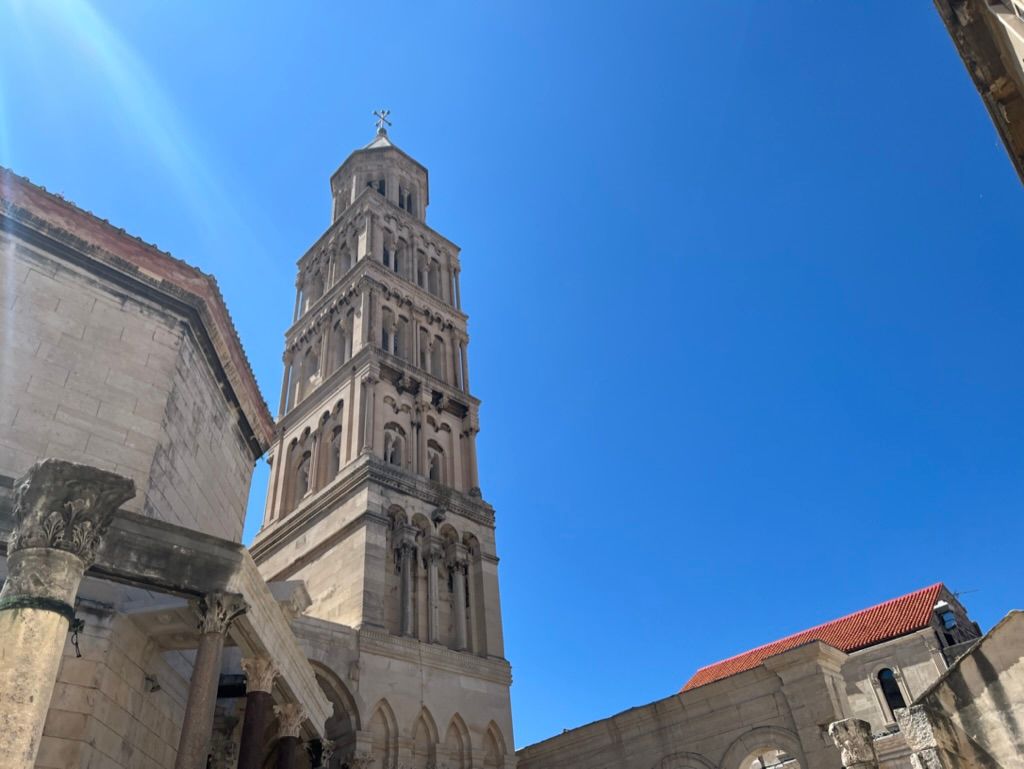 The weather was beautiful the whole time we were there, and as it was April it wasn't too warm and thankfully not too busy either.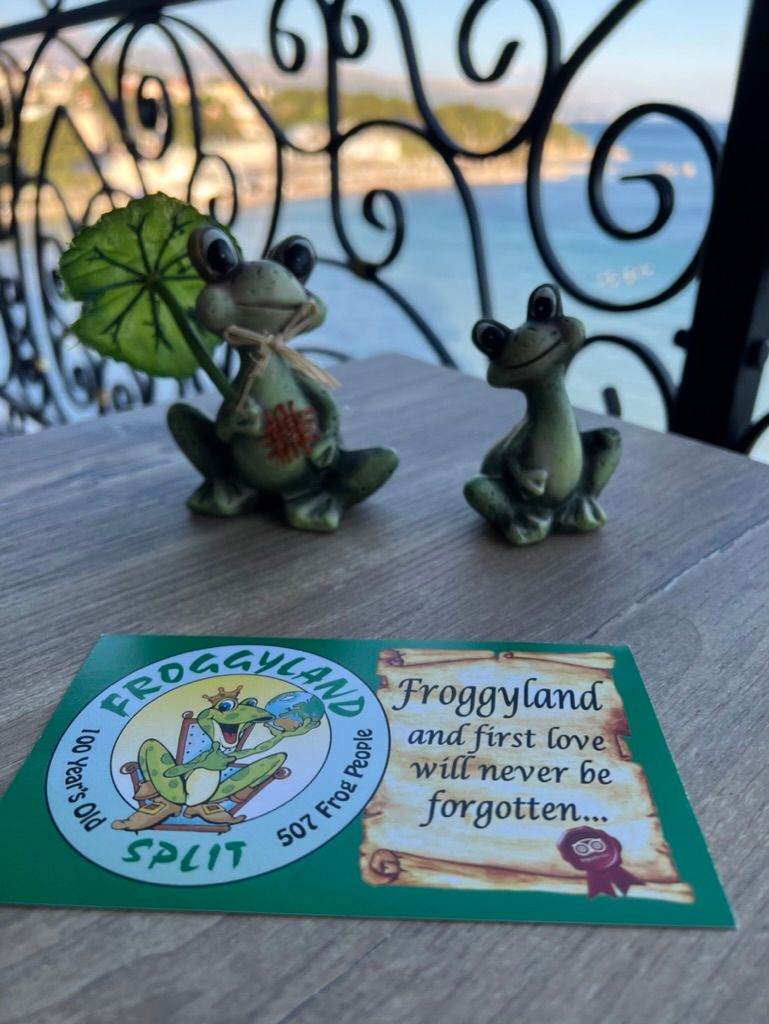 Below is a photo dump of a few more things from exploring and eating out in Old Town, Split.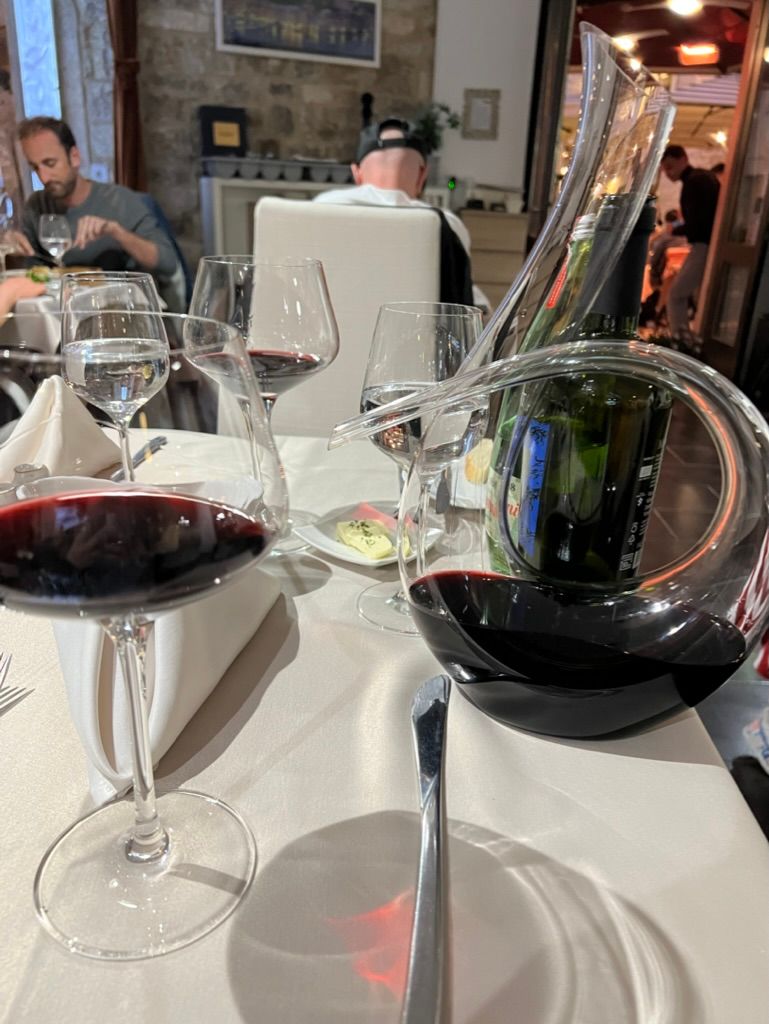 There are a lot of beautiful islands off the coast of Croatia, so we signed up for a speed boat day tour, getting to see dolphins, go swimming, explore the some of the little villages where Mamma Mia was filmed, and see some beautiful caves.
Below are some of my favourite photos of that tour: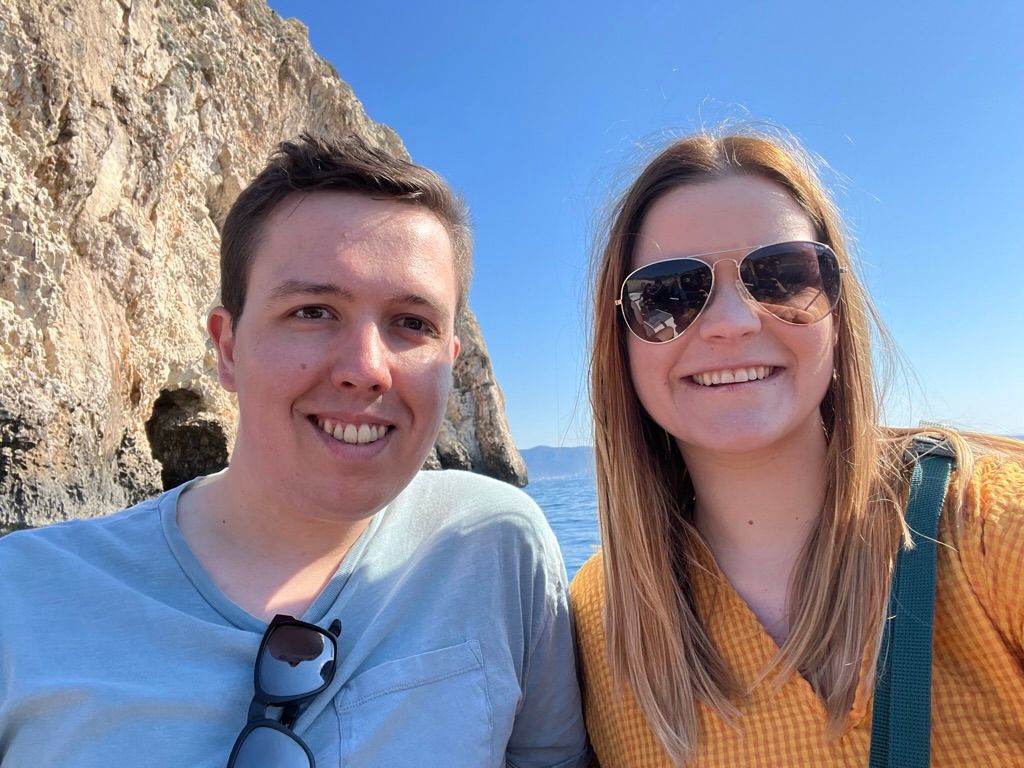 I always envy people who can get those "candid" shots in beautiful places, and every so often Elliot will enable me by taking photos as I'm walking around. There were a lot of beatiful paths and stairs through the town of Hvar, so it would have been a shame not to. 😆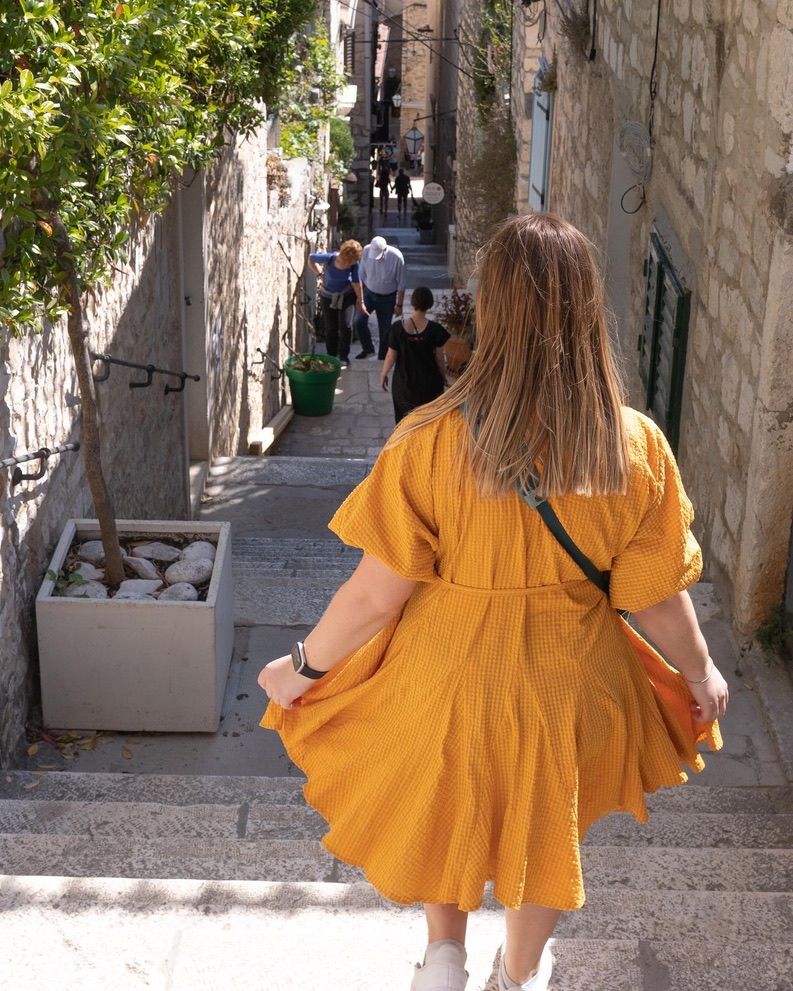 During the week we had been eyeing up a beautiful restaurant on a terrace facing the sea. It wasn't until we got dressed up and tried to go that we found out it was a Michelin Star restaurant called ZOI! It was a beautiful venue, they provided blankets for over my shoulder, and the food was lovely.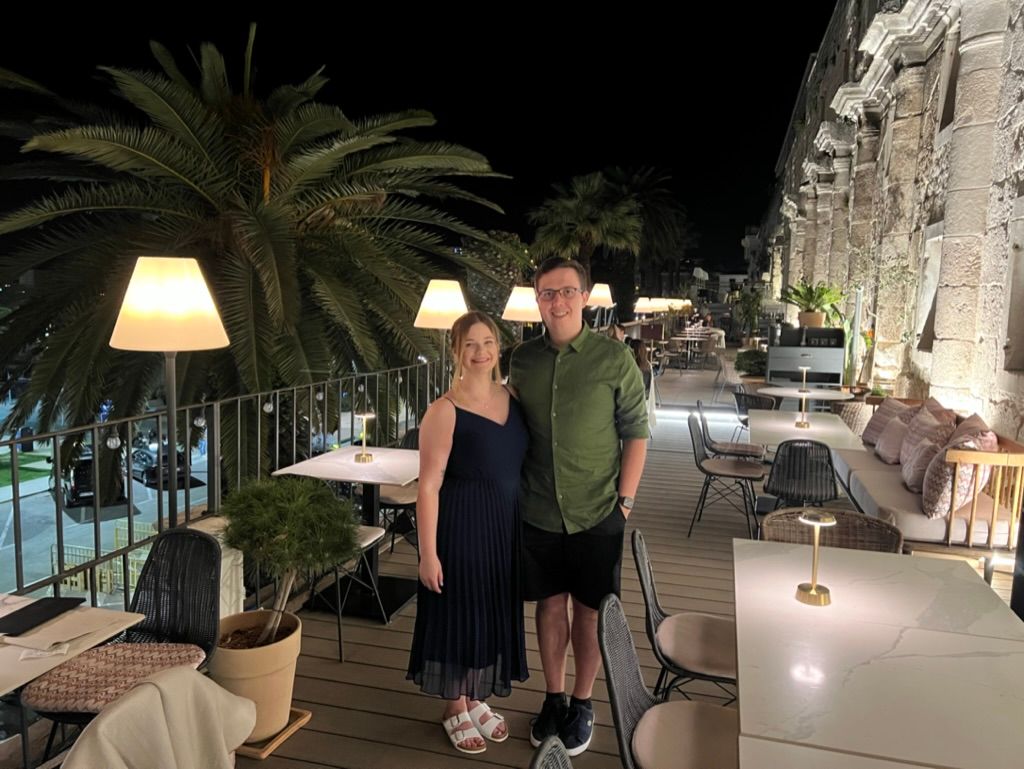 We had a great chat with our server for the night, and he brought out differing shots of rakija for us to try. It is a traditional drink in Croatia and Serbia, and wow was it strong. It definitely helped to warm me up as it cooled down!
Another tourist attraction we had to see was the Krka National Park; we had the opportunity to explore the waterfalls, listen to frogs, and then go for wine tasting as part of a bus tour.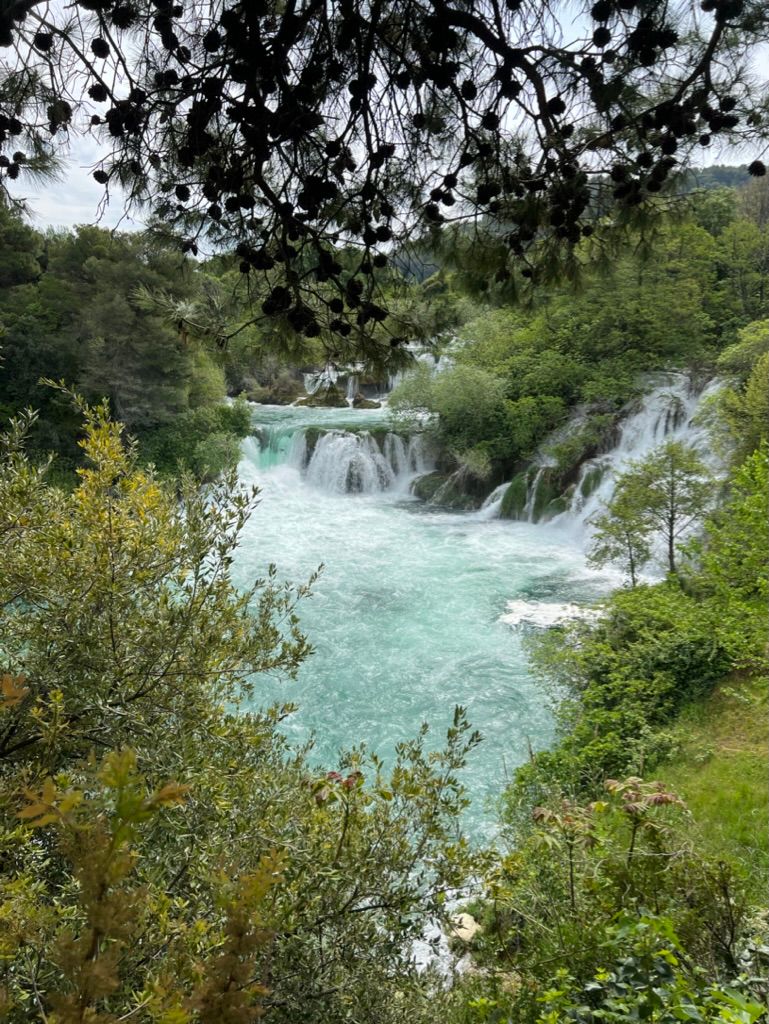 Usually, I wouldn't be interested in a bus tour, and renting a car to experience the country ourselves would be more fun... but the driving in Croatia seemed a bit dangerous and we both wanted to enjoy the wine tasting so we opted for the bus tour.
Thankfully because we were pre-season the bus had very few passengers so we were still able to maintain social distancing for our adventures.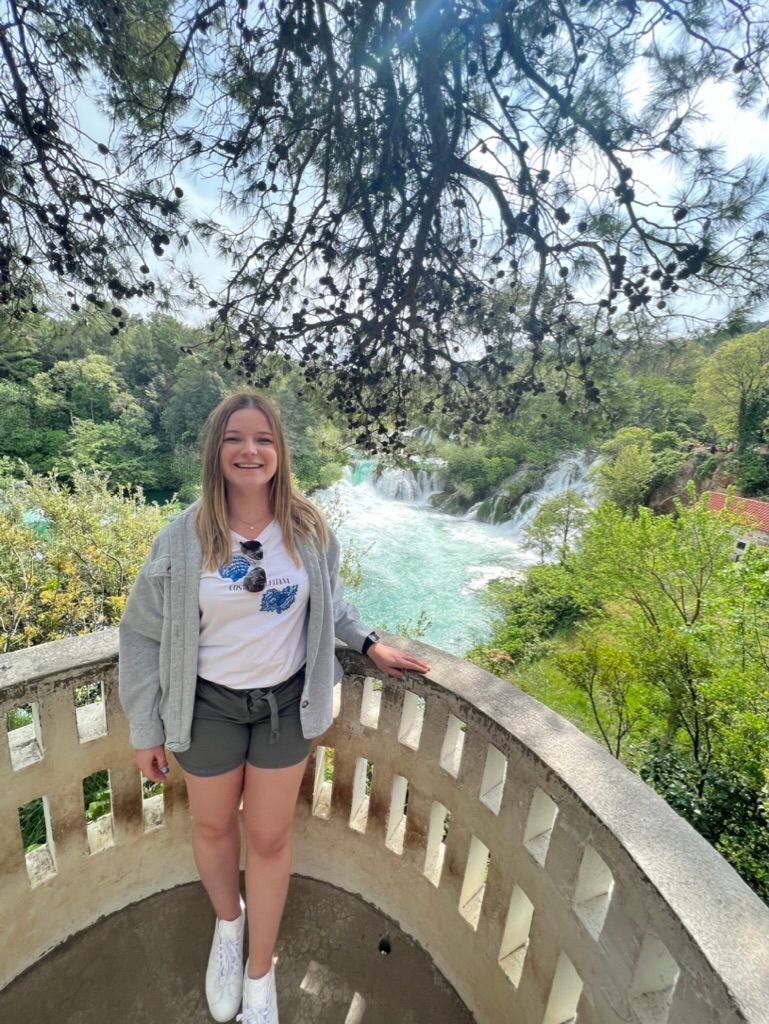 On the final day of our trip, we took the ferry to Hvar to relax in the sun and do a little more exploring. It is such as beautiful island and I would happily return to just explore Hvar in a heartbeat.
We even managed to watch dolphins swimming in the bay below our hotel window as we enjoyed the wine on our last night.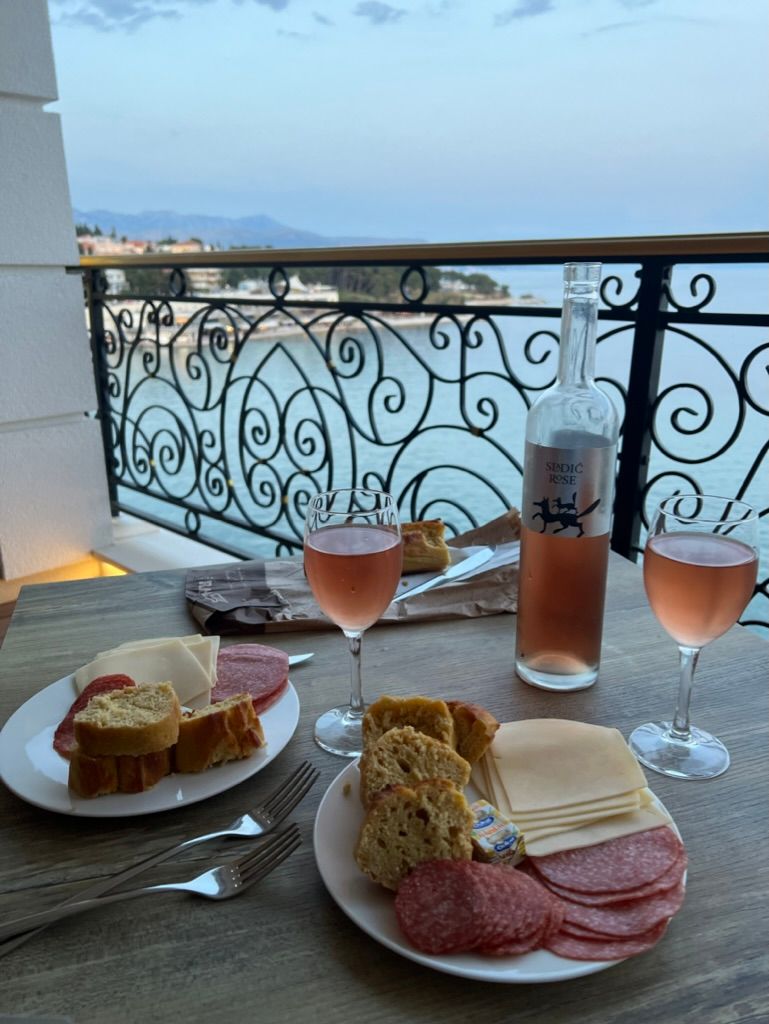 This was such as beautiful country, and city and I'd highly recommend it to anyone considering it.