Finding a New Job in Tech
An insight into the things I consider when finding a new role, and how to keep track of all those interview processes.
Disclaimer: At the time of posting I am not looking for a new role but simply sharing a blog I started writing almost a year ago.
At the start of 2021, I decided it was time for me to find a new role and step out of my comfort zone. I had been working at the same company for five years (my entire career at that point) and felt like I was becoming stagnant.
I'm forever thankful for the experience I gained working at that company, and the amazing connections I've made there. It was working there that I met friends for life, my very best friend (personal joke) and my partner so it will always hold a special place in my heart.
In this blog, I'll cover what my reasons were for wanting to move, where I went to look for roles, and how I kept track of my interview processes.
When to consider a new job
Ask yourself these questions:
Are you enjoying your work?
Is your work-life balance what you want it to be?
Are you still learning and growing?
Are you being compensated fairly?
These points are the main things that I consider when evaluating how happy I am in a role. At the time I finally decided to send my CV/ Resume out it was because I felt like I had become stagnant and I wasn't learning at the pace I wanted, so I thought the best thing would be to get out of my comfort zone.
Getting over the fear
It took me a long time to pick up the courage to apply for a new job. The last time I had gone through a proper interview process was when I was in my second year of university and I was rejected from fifteen companies for an internship role. FIFTEEN. I remember feeling so defeated and that fear resulted in me putting off re-creating my CV and putting myself out there.
Looking back on it, I was so nervous and felt like everything I said was wrong in every interview. Not to mention the fact that most of the roles I was applying to were in operations or bitcoin (which was before it was a "big" thing, and honestly, I didn't know much about it) so I think overall it worked out for the best that I got all those rejections before joining JP Morgan Chase.
What had changed in those five years though, was that now I have industry experience and I'm naturally a people person so by all logic I should be good at interviewing. It took a lot of moral support and encouragement to help me get over this fear and give it a try.
If you're staying in a job that you're in just because it's most comfortable, and the fear of interviewing is stopping you: take this as your sign to give it a go, the worst thing they can say is no and you get to stay in that job you're comfortable in any way.
Where to look
There are a number of places you can look for a new job, and I can only really share my experiences I'm sure there are a lot more options:
Pick a company you like the sound of and search their careers website; most companies have one.
Network! Between LinkedIn and Twitter, it's possible to build up a network of contacts at different companies, and often you'll find people sharing links to job openings in their teams or companies. If something sounds interesting to you, reach out to that person. It could mean a nice referral for them, and a way to get on the recruiter's radars.
Try a dedicated careers website: In Scotland we have s1jobs, myjobscotland and many more. Others such as CW Jobs, Dice and so many other job sites come up in a quick search.
Personally, I used the first two suggestions here when I was searching for a job but I know others who have used career websites when searching for a role.
Plus, if you know me well enough then please feel free to reach out. I'll always be candid about my experiences and would happily help anyone who is looking for support, even if that is just talking over thoughts and nerves about leaving a company that you feel loyal to.
Keeping track
Anyone who knows me will be aware of my obsession with planning, documenting and keeping track of everything... Well, obviously interviewing was going to follow some sort of system. I kept track in a table in Notion, detailing the company, any details about the status, interesting tags, and links to the jobs where applicable and then I would add notes under each one that I felt were important.
I've blanked out most of the actual details in the below screenshot because I don't want to share which companies I applied to, got offers from or any of the specifics.
I did however keep CircleCI in there, as that's where I've been working for the past year and a few months... so it's not exactly a secret. 🤫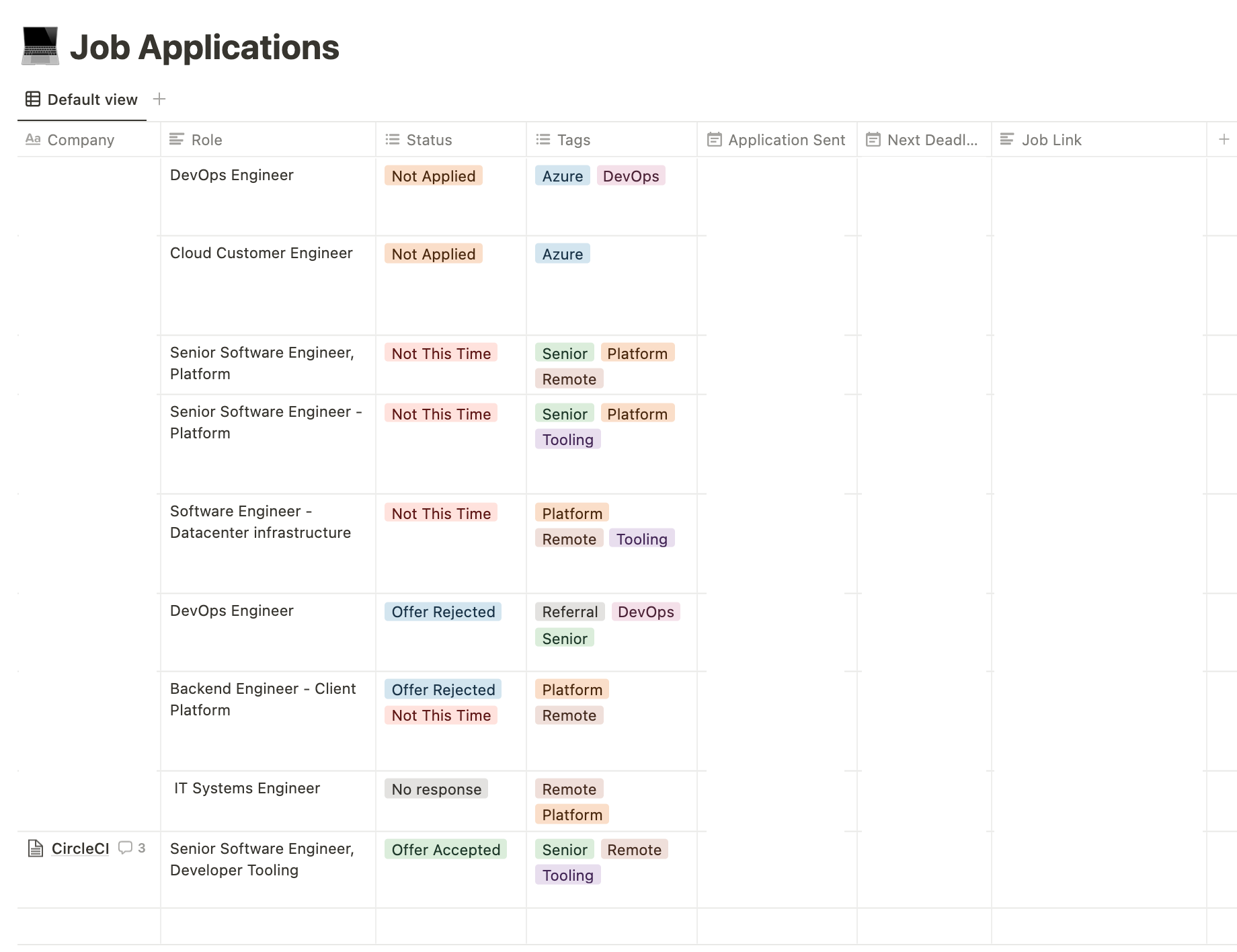 Interviewing
This deserves a blog all on its own, as I've had some great (and some terrible) experiences interviewing for a new role. I've also come across great resources that have helped me, particularly as someone who didn't study computer science and really struggles with the fear of doing a tech interview.
A couple of the companies I interviewed with were companies that I wasn't necessarily interested in joining, but I had done so to try and get over my fear of interviewing. As a result, I thankfully received a few offers that I was able to reject which I was not expecting at the time. Doing these interviews gave me the confidence I needed when doing the interviews that mattered (even with a company that sent me through the process 3 times for different roles... but another time).
Most interview processes, at least the ones I went through followed a general pattern:
Submit Application
Recruiter Screen
Hiring Manager Meeting
Tech Interview (role, tech stack and level dependant)
Team / Behavioural Interview
Skip Level Meeting
Recruiter Roundup
While in some cases this can seem like a lot, and it can be if you're going through multiple interview processes at the same time. So you should take that into consideration if you're applying for a new role.