Travel Hack: Return flights for £1 each
How we made our daily spending go that little bit further with air miles.
Last year, we started started actively trying to earn air miles, or "hack" our travels. I'd heard people talking about it before, but it all sounded too complicated so we put it off for a few months. I regret that now, as we had just moved house and to think of all the points we missed out on by not starting this journey sooner...
💡
Travel hacking: Using credit cards and 'free' air miles to upgrade your economy flight ticket to business class (or to buy a business class ticket).
TL;DR
Use a credit card, such as a British Airways American Express Premium Plus card for all your spending (groceries, big purchases, flights).
Collect air miles (points) and possibly bonus vouchers (Companion vouchers).
Pay off your credit card monthly, so you don't get charged interest!
Use sites such as RewardFlightFinder to find flights you can use your points and vouchers on.
Book flights using your points, vouchers, and outstanding monies.
Enjoy your trip! ☀️
I started writing this blog as a quick "yay, we got cheap flights" thing and it quickly turned into a 1,000+ word essay, so if you'd like to read more detail on how this all actually works, then read on...
So, how does travel hacking work?
A common misconception is that to earn air miles, you have to take flights.
Travel hacking however, involves building up air miles by spending money using your credit card. There are a number of credit cards which earn you air miles for everything you spend. Depending on the card, the type of air miles you're earning, and where you live (this is a much more common thing in the US than the UK), and other factors, they will determine how you proceed with earning points.
Air miles are like loyalty points, once you save up enough of them you can use them to book or upgrade flights. There's no exact science to what an air mile will get you (it doesn't map to literal miles in the air). Depending on which airline you expect you'll want to fly with, it will influence the credit card you're interested in, as cashing in air miles depends on the "alliance" an airline belongs to.
There are three large alliances, and almost all airlines belong to one:
OneWorld (British Airways, Finnair, Qatar Airways, etc.)
SkyTeam (Air France, Delta, KLM, etc.)
Star Alliance (Air Canada, Luthansa, United, etc.)
Note: Budget airlines such as EasyJet or RyanAir are not part of an alliance, so you cannot redeem points (air miles) against them.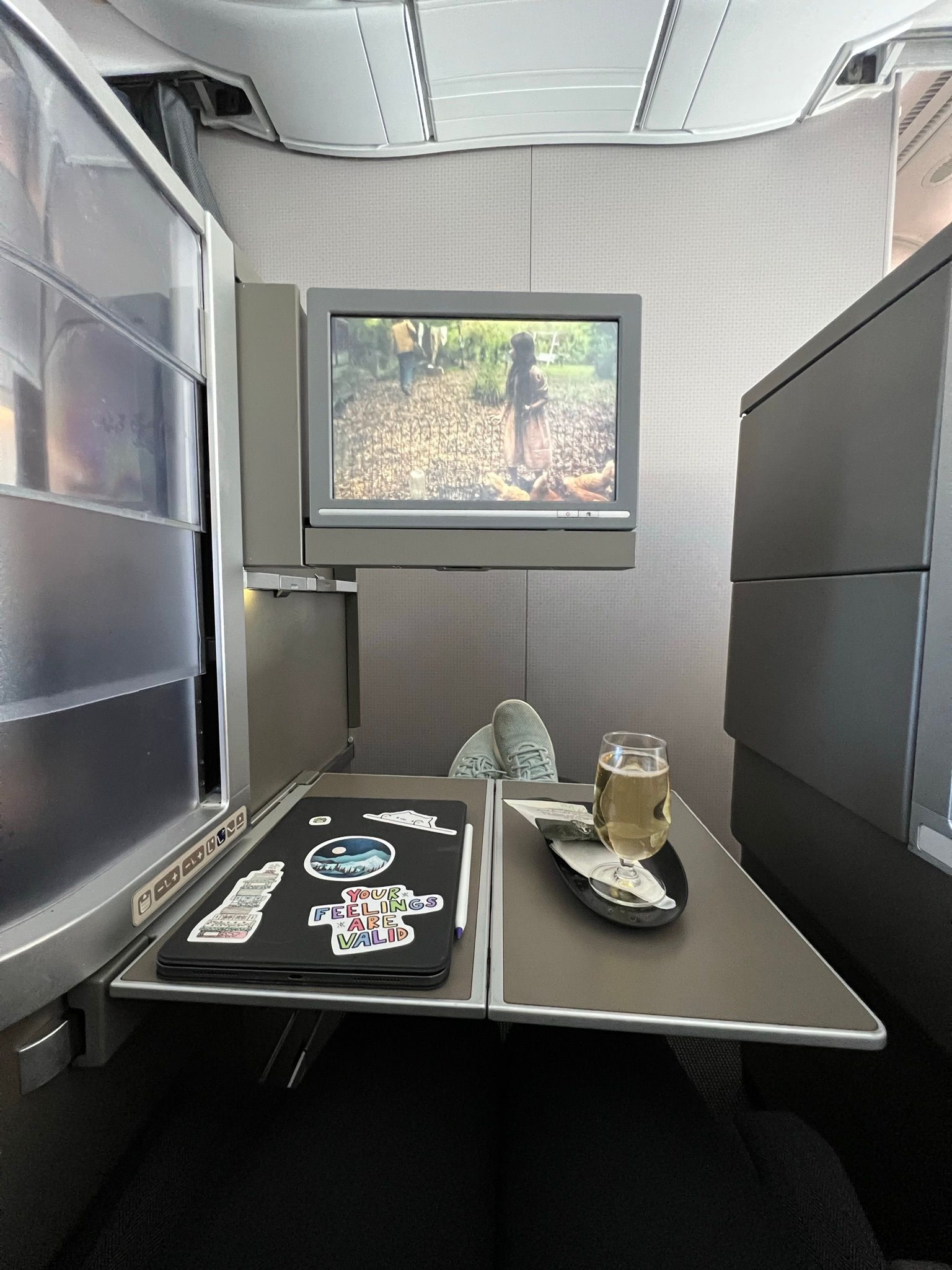 A friend referred us to the British Airways American Express Premium Plus card this time last year; and it's been working out well for our needs.
Why I picked this card:
1.5x Avios (oneworld alliance) points for every £1 spent
3x Avios points for every British Airways booking
Companion Voucher: when you spend £10,000 (each year) on the card, you can then use it to cover the value of a second ticket as the same class (i.e. Business) when booking onto a British Airways reward flight.
Travel Inconvenience Insurance which covers most of the typical things that could go wrong: cancelled flights, delayed luggage, missed connections, etc.
Things you need to be aware of:
There's a £250 annual fee (which comes out on the card itself).
It has a 106% APR variable interest rate (for comparison, most people try for interest free credit cards so they don't have to pay them off immediately).
Given the ridiculous interest rates; you need to be able to pay off any expenses immediately to avoid incurring ridiculous interest charges.
The above details are accurate at the time of writing, but I don't work for British Airways or American Express, so they may be subject to change.
How do you earn points using the card?
When someone refers you (* cough * hint * cough *) for one of these credit cards, you earn bonus points; this changes over time but at the time of posting you'll earn 26,000 extra points for using my referral code  (I get less, but can't blame a girl for trying :D). I can only speak to the benefits of the British Airways American Express Premium Plus card, but there are other good cards on there too.
If you are considering a different card but want to benefit from the referral points, click "View all cards with a Referral Offer" in the top left corner of that page).
I referred Elliot, so we actually have two of these cards that we started roughly 6 months apart which means we can change back and forth between the cards for joint purchases (this is to maximise the gains, and chances for earning two Companion vouchers a year). We've also joint our British Airways accounts as a family so we share the points too.
Use your credit card wherever possible! The difficulty being, this specific card is an Amex card and you do come across many "we don't accept American Express" signs. We do always ask if we're unsure, and try to do our grocery shopping, big purchases, wherever possible we try to make our money work for us.
We then almost immediately pay that off, because, the idea of paying interest on it is pretty scary.
And that's it: spend money on things you'd be buying anyway, but earn additional points for doing so. When you save up enough, you can put them toward reward flights!
So... How did you manage to get the flights for £1 return?
Using the Reward Flight Finder on a miserable Scottish day, I went searching for flights to warm countries, and looked at the few options available from Edinburgh (trying to avoid the need for a transfer in London). There were a limited number of places we could fly to, mostly in the South of England or the Channel Isles... but also Florence, or Majorca.
Elliot's been wanting to go to Tuscany for a long time now, and we thought May would be a good time to visit... so when the flights appeared at roughly 22,000 Avois points for roughly two weeks return, it was hard to resist investigating as that was well within our budget (we had roughly 80,000 points at the time).
But! We also had a Companion Voucher to use, so when we logged in, applied the voucher to those same flights, we couldn't pass them up because it worked out at just £1 each for Business class flights to Florence (roughly a 3 hour flight).
Usually, the taxes, fees and carrier charges mean you're at least paying something for the flights but nope, there was no charge. Now I don't know if that's going to come back to bite us, or there will be some ridiculous charge applied at a later date, but for now... £1 Business class return flights for two weeks in Italy. ☀️
The flights themselves cost:
£2 total (£1 per person, or 50p each way)
42,250 Avios points
One BA American Express Premium Plus Companion Voucher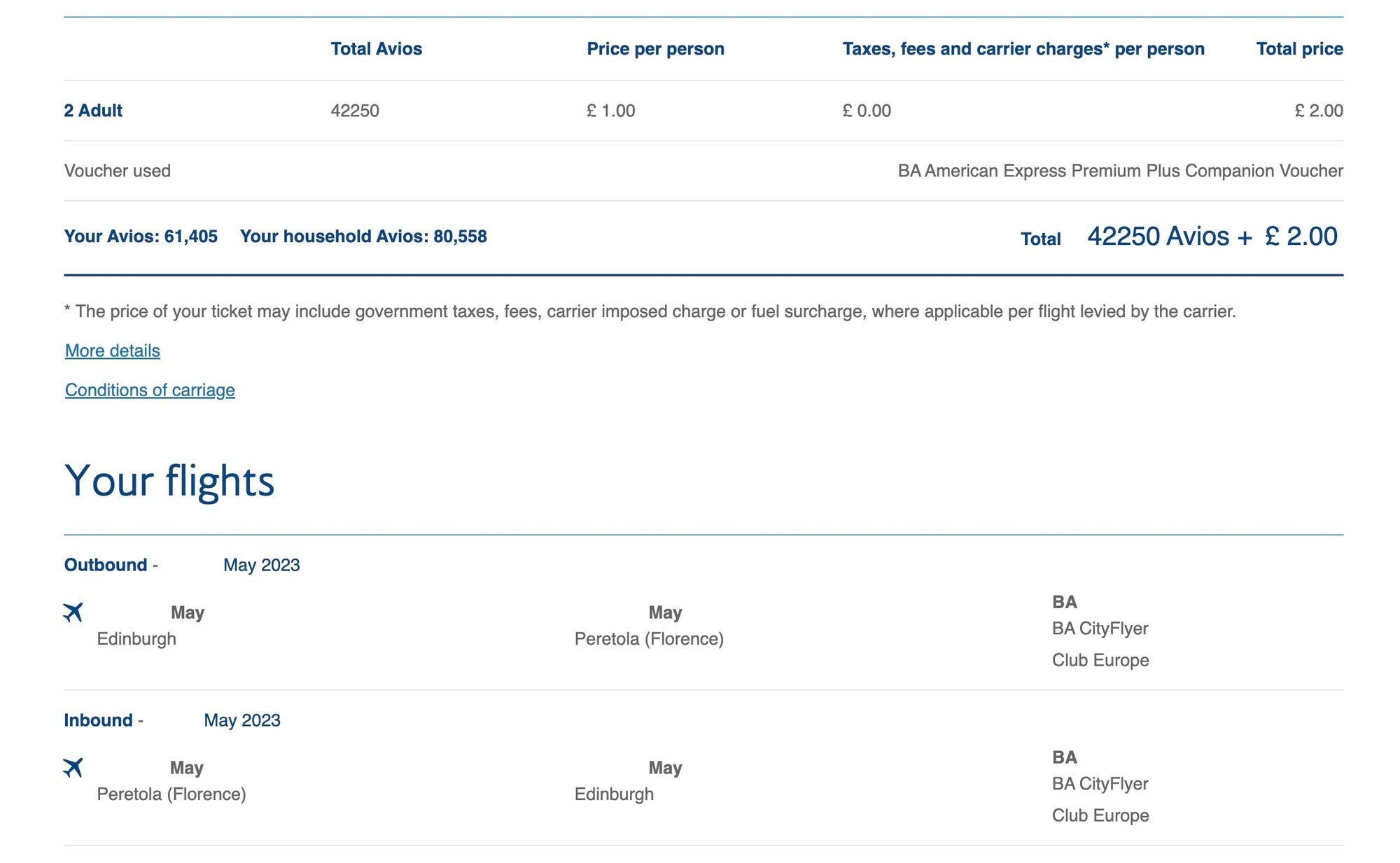 All points, and the Companion Voucher were earned through spending on groceries, things for the house, dog food, you name it. So while we did spend money to earn those points... it was money we'd be spending anyway.
I don't know why I didn't try this sooner; and have been evangelising about it ever since (hence the inspiration for this blog). Obviously I know everyone's situation is different, and there are real dangers with credit card debt. But if you're sensible about it, why not try to make your spending work for you?
If you'd like to learn more, or you found this useful then please let me know!