Bullet Journalling
An insight into how I organise my life through the art of BuJo.
I LOVE stationary. I've gone through that many different journals, pens, and all of the usual stationary goodness over the years. I've also been guilty of starting a new diary at the beginning of the year, saying "this year I'm going to actually use the diary to keep my life on track" anddddd... a week later it's lying in the corner forgotten.
That was, until I found bullet journalling. Being able to doodle and design a journal that would be exactly what I need it to be? Yes!
I've been bullet journalling for over four years now, iterating over my process as it suits me: sometimes I've got more time to design and be more intentional, however some months I'm busy and a cover page with a few additional details I can manage. You know what? That's okay. Because it's my journal.
So, what is a bullet journal?
A bullet journal (sometimes known as a BuJo) is a method of personal organization developed by designer Ryder Carroll. The system organizes scheduling, reminders, to-do lists, brainstorming, and other organizational tasks into a single notebook.
There are endless resources on Pinterest, Instagram, Google, where you can find inspiration and examples for how people structure their journals. It's hard not to experience journal envy, but it's important to remember why you're starting the journal in the first place. For me, it's because I want to be intentional and track my mental health and the factors that affect it.
Supplies
I spent hours looking through Pinterest to find ideas and inspiration, figuring out the best books and pens for the job. The first book I bought was the Leuchtturm1917 dot journal. I used this for about 3 years, using it to keep track of birthdays, plans, tv shows, Christmas shopping and everything in between.
When I had big events to plan for, I had dedicated sections and the best part about it is that it was completely personalised! At some point that journal felt like I had become stuck with following the same patterns, and in January 2021 I decided it was time to start with a fresh journal and the process to plan it all out again restarted.
This time I knew more about what worked and what didn't, and we were in lockdown so I had plenty of time to design and make this one pretty. I also thought that this time I would try a different journal and pens, which are:
Dingbats Wildlife A5 Dotted notebook
Sakura Pigma Micron 6 fineliners
BIC Pastel higlighters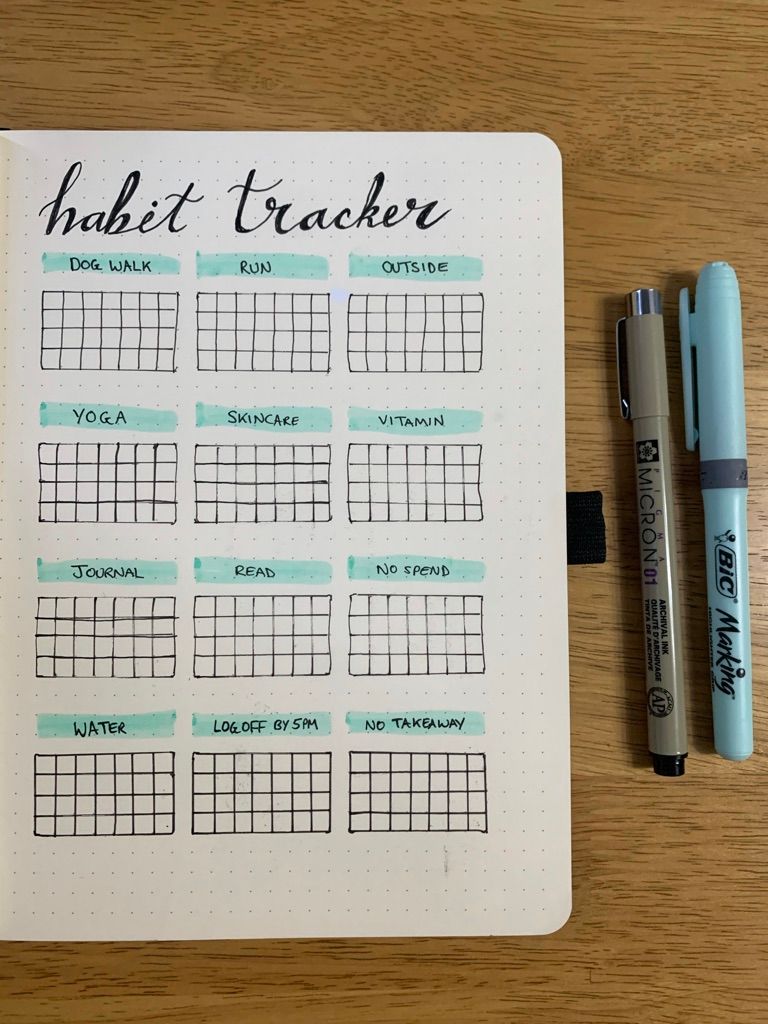 Journal Sections
When starting a fresh journal, I like to break things down into Annual and Monthly sections. You could always have weekly or even daily pages, but I know that is too much mental overhead for me so it's not worth it if I want to keep it up.
Annual
The first ten to twengty pages of my journal are usually dedicated to sections that I'll want to refer to throughout the year. Over the years these have included:
Calendar overview
Birthdays at a glance
Running tracker (when I first started running 🥲)
Weight-loss tracker
Weather and temperature tracker (this will be cool by the end of the year)
Mood tracker
Books I've read
Work log (one line per week to make end of year more bearable)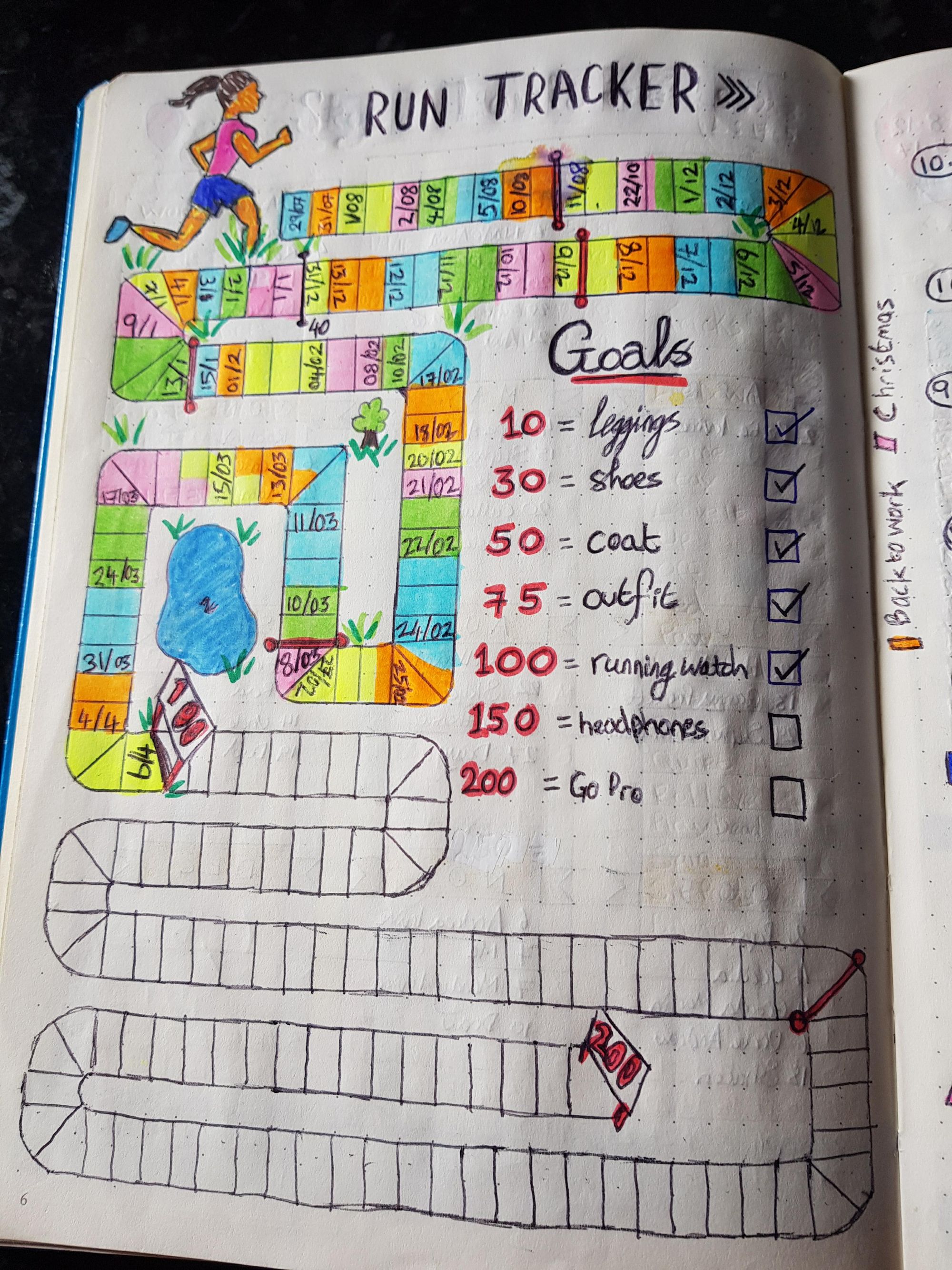 This time around I've been very organised, so each month has a dedicated colour and flower. Some examples from the beginning of the year include:
January | Purple | Lavender
February | Blue | Bluebell
March | Green | Tulip
April | Yellow | Daffodil
Monthly
These sections have changed a lot over the years, and even this year. At the beginning of 2021 each month spanned eight pages, including:
Dedicated cover page (with section for mindfulness)
Month calendar overview
Meals this month
Chore tracker
Habit tracker
Finance tracker
To-do list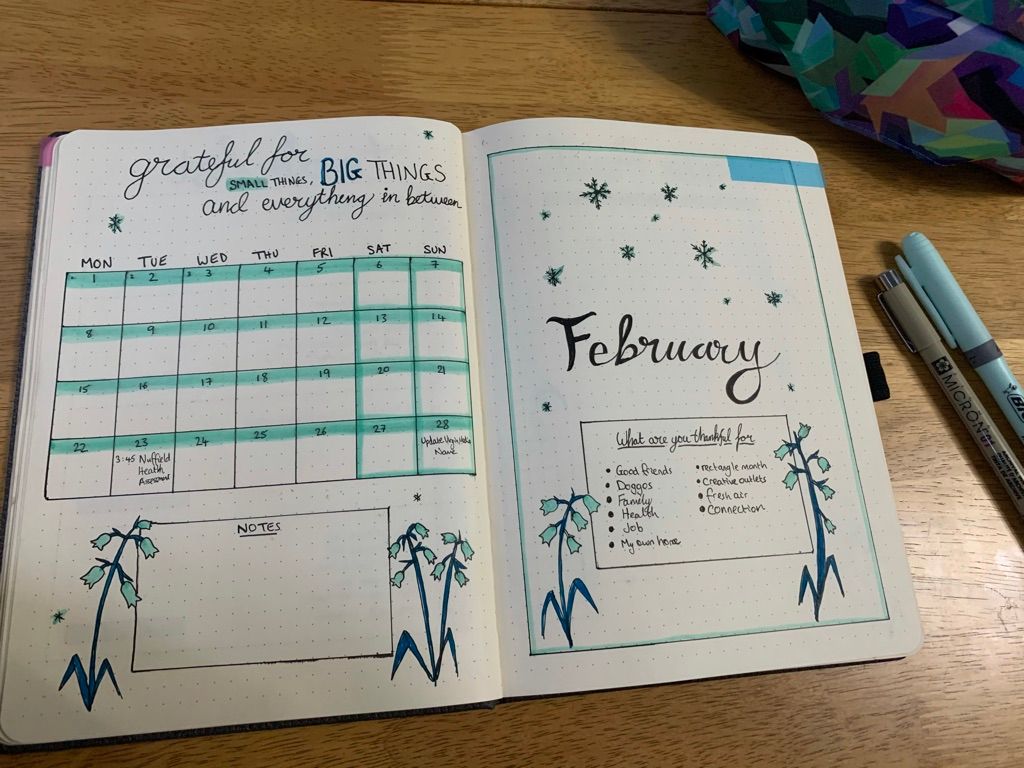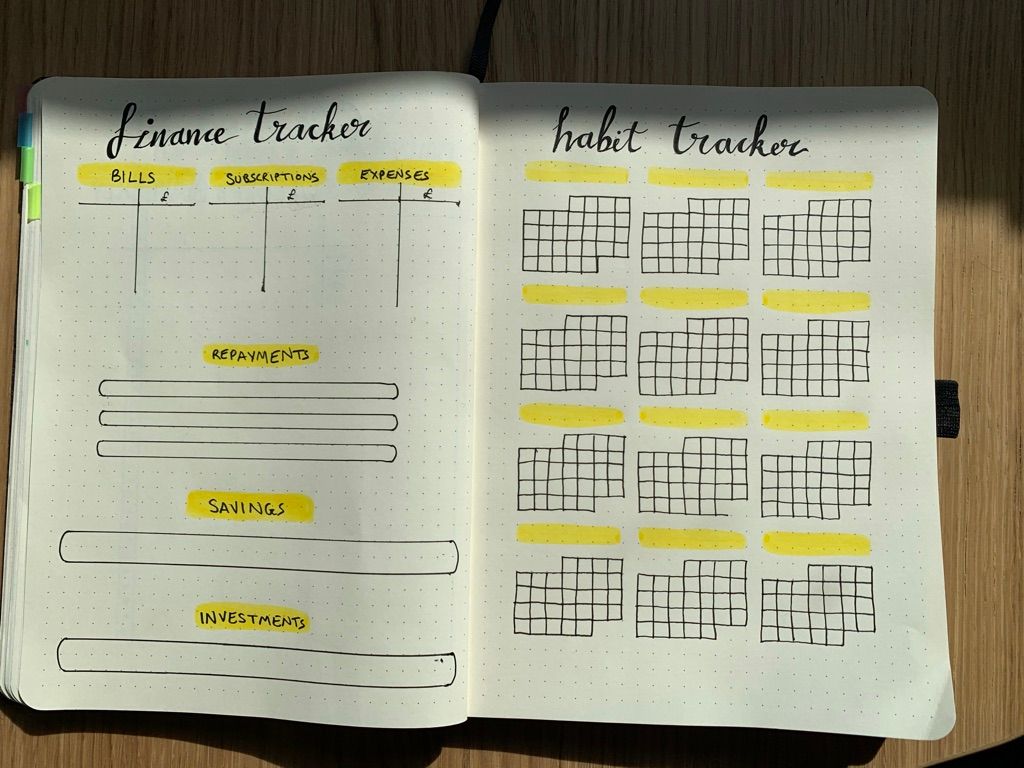 With changing jobs and lockdown easing a bit, the time I had to dedicate to designing each month shrunk so now I have a simplified page two page spread for each month.
It's definitely hasn't gone quite to how I designed a two page spread a few years back, but does still cover the calendar overview, notes and a summary of my savings and investments (kept vague enough so if someone found it they wouldn't know too much 😆).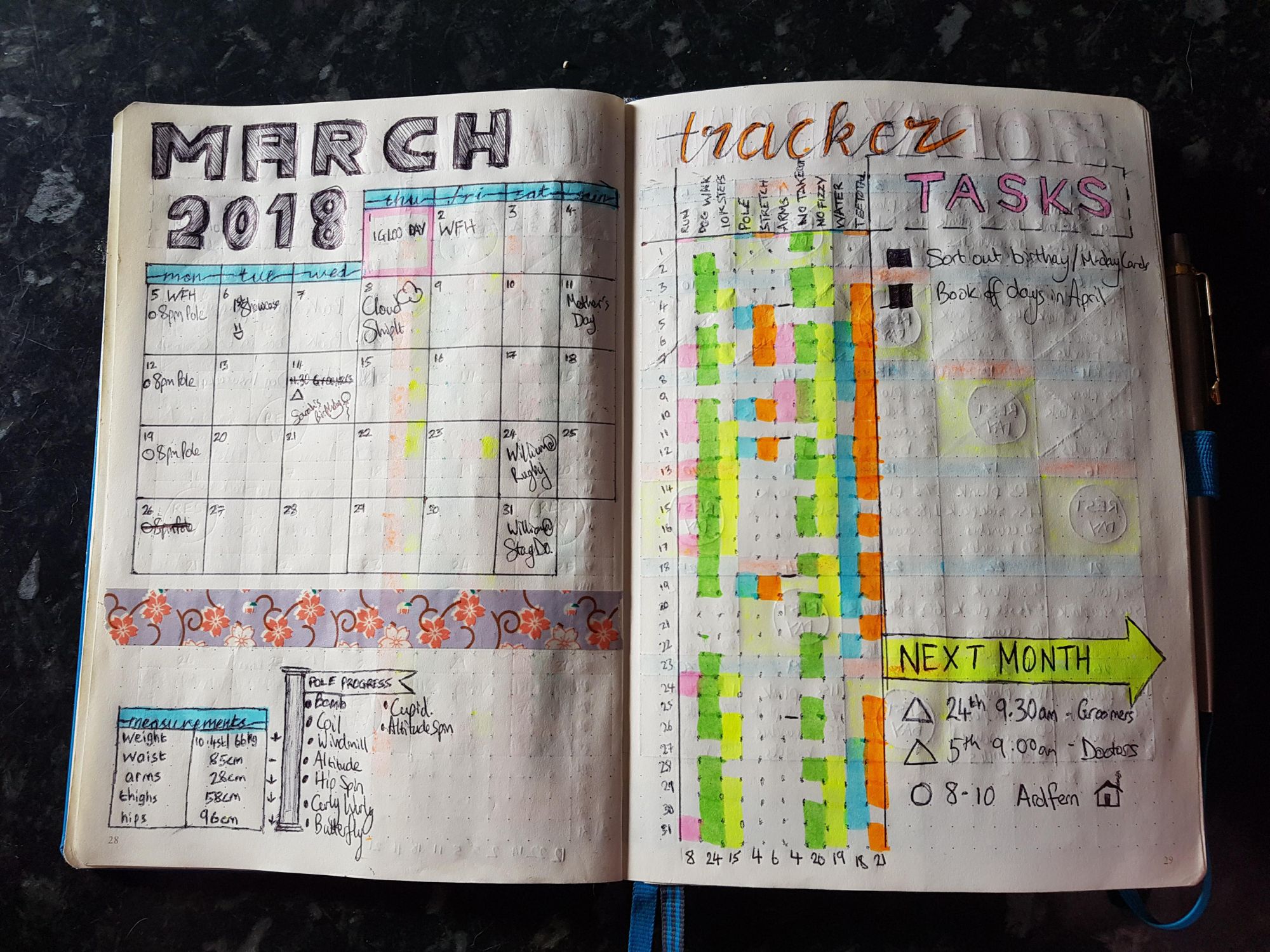 My older bullet journals were drawn on a crowded rush hour train to Glasgow, and you can tell the difference. It's interesting to see the progression. 🚊
Events
When events approach I usually dedicate space to plan, doodle or just brain-dump on a piece of paper to allow me to track thoughts and all the things. I've done this for parties, job-hunting, training and Christmas shopping (it's really nice to be reminded of what you've bought people in the past).
All of these events are rather personal, so I don't have examples I want to show, but you get the gist.
Summary
When I show people this stuff usually they are taken back by how particular I am, but that's just me. If you're considering starting your own bullet journal it can be as simple as you want to be; you don't need a fancy journal or pens, or even to be too creative. Just a pen and paper, and off you go! 🚀
Do what helps you and that you can maintain (I have struggled at times with drawing out the monthly spreads because they are a lot of work, but find the satisfaction of the finished product is usually worth it for me).
Thanks again for taking the time to read this blog, have a great day!