My Desk Setup for 2022
After years of improvement, I'm finally happy with my home office set-up!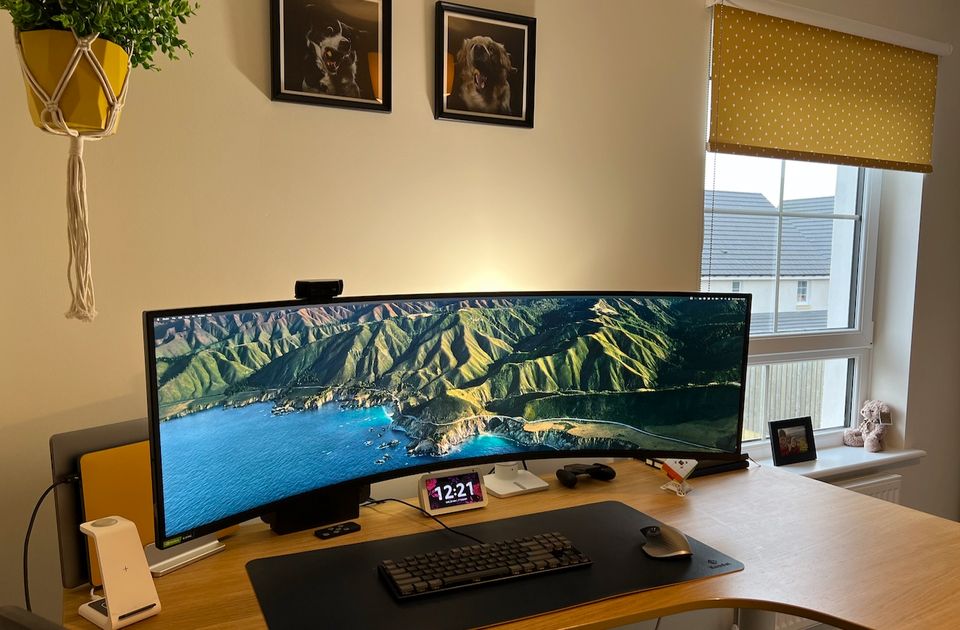 My desk setup pre-pandemic was... rather abysmal honestly. I worked from home once or twice a week so I had a minimal setup that would allow me to work, but it was far from optimal. When the pandemic hit, and I was spending all of my time at home, I jumped on the bandwagon and started upgrading my setup.
This has been an ongoing process, where I've spent about 3 years gradually improving my set-up so all of the investment was not made at once. However, now it's in a place where I'm genuinely delighted with my office, and the only thing pending is a new desk mat as the current one no longer fits the aesthetic 😆
Current Set-Up
Now that I'm fully remote, I feel less guilty about investing in my desk set-up as it's where I spend roughly 40 hours a week (not counting additional time at the weekends with my Nintendo Switch set up on one half of the monitor), though I still can't bring myself to count up what all of this comes to. 😅
The desk:
Laptops:
Peripherals
Quality of Life Improvements:
The monitor itself is equivalent to two 27" monitors side by side, minus the bezel. For work, this means I can easily split my windows into thirds of the screen and I've found so far it optimizes my experience (I've had it about a month now). I do have to limit myself to sharing one application at a time to reduce the pain for my team when I'm sharing my screen. 😆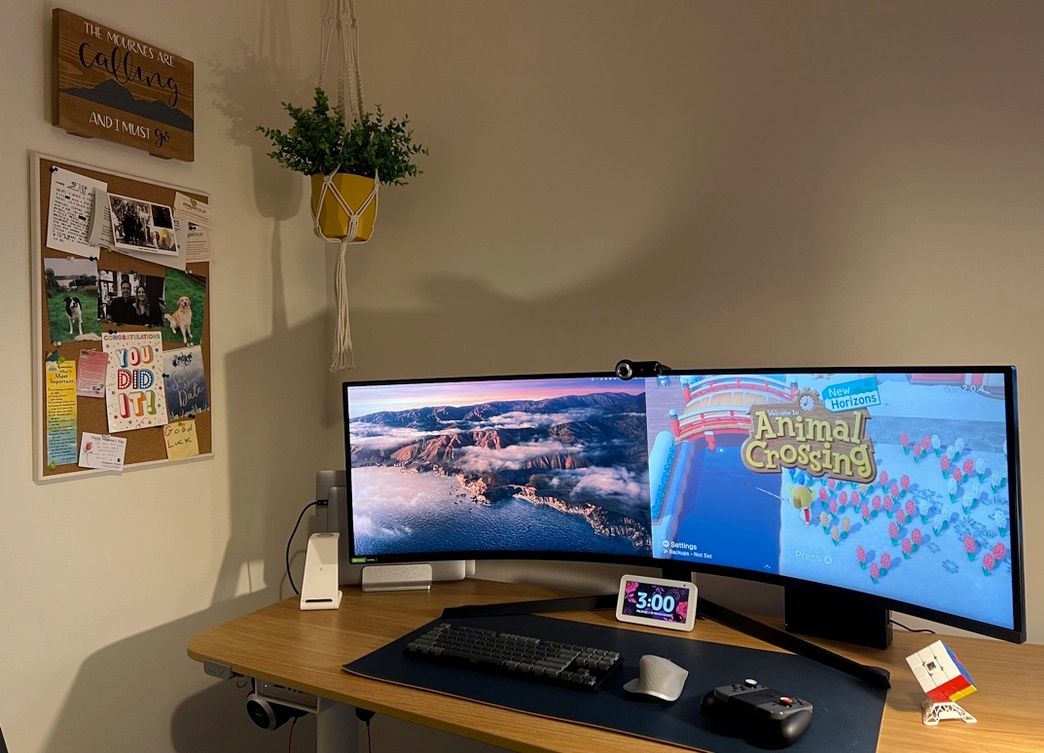 It wasn't always like this
When I first started working from home I would have sat on the couch with my laptop (and often a dog) on my knee. However, at some point, I started working from home once or twice a week so I got myself a secondhand desk, the desk-chair that I've had since I was a teenager (that the arms are actually on incorrectly), a little £40 monitor that needed a VGA cable, and a mouse: this seemed great at the time. This was all set up with a Lenovo IdeaPad that I had bought when I was working three part-time jobs to get through university. It was great, for a time.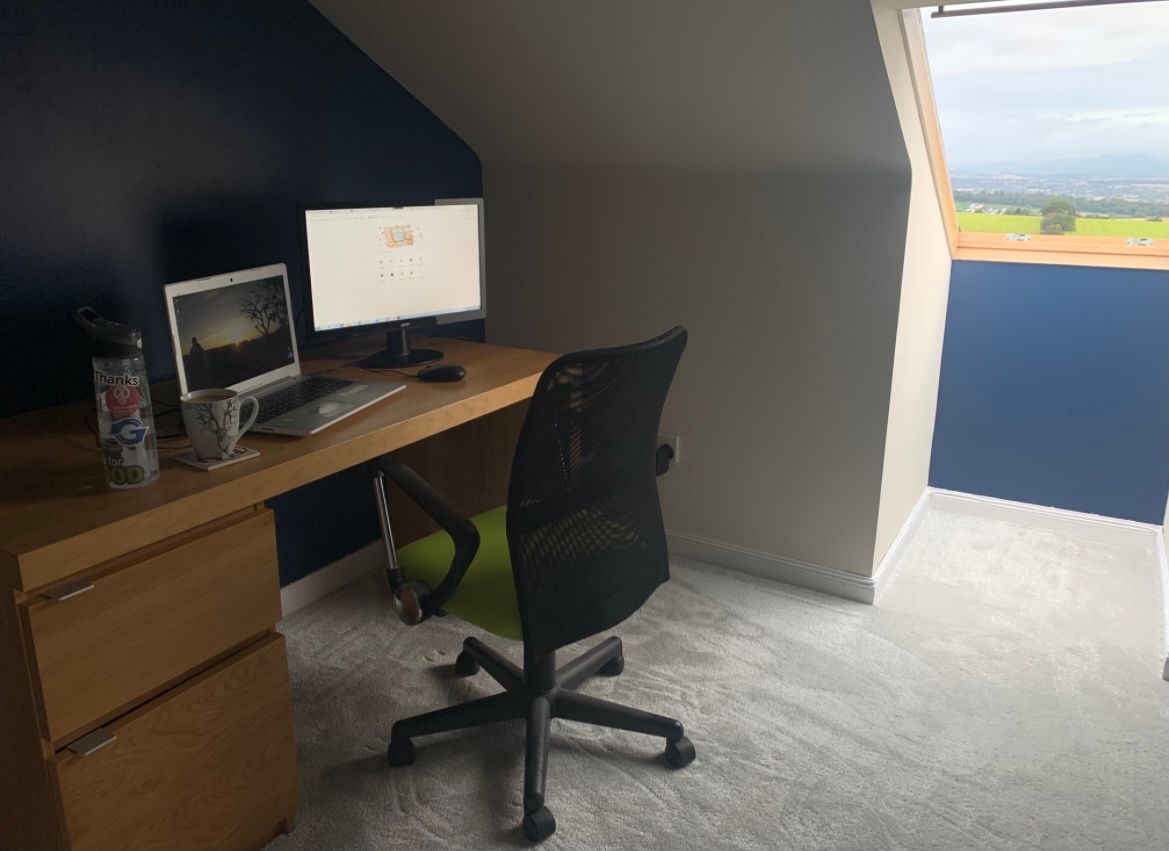 I can't find a photo of the first iteration of this, but this is the furthest back I can find from 3 years ago.
In March 2020, after the initial two weeks of lockdown, I invested in a new monitor. Unfortunately, I had missed the boat on all the popular monitors so at this time I opted for a 32 inch 1080p curved Samsung screen. At the time I loved that screen, I also purchased my first dock, first mechanical keyboard and wireless mouse. They were nothing fancy, but it was the start of a downward (upward??) spiral to upgrading my home office set up.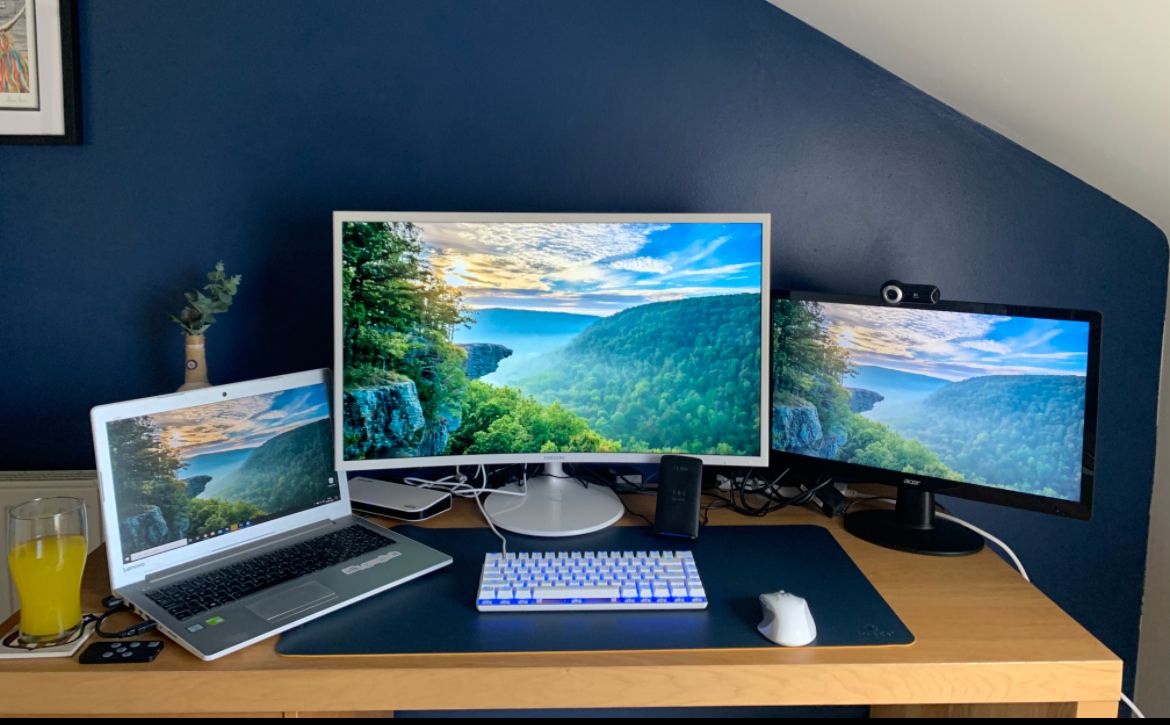 In August 2020, I moved home again and upgraded my desk to an IKEA Corner Standing Desk which also came with much-needed cable management!
I loved the design of this room, facing onto the dark blue wall and an awesome geometric design behind me which made a wonderful conversation piece for all of my Zoom meetings.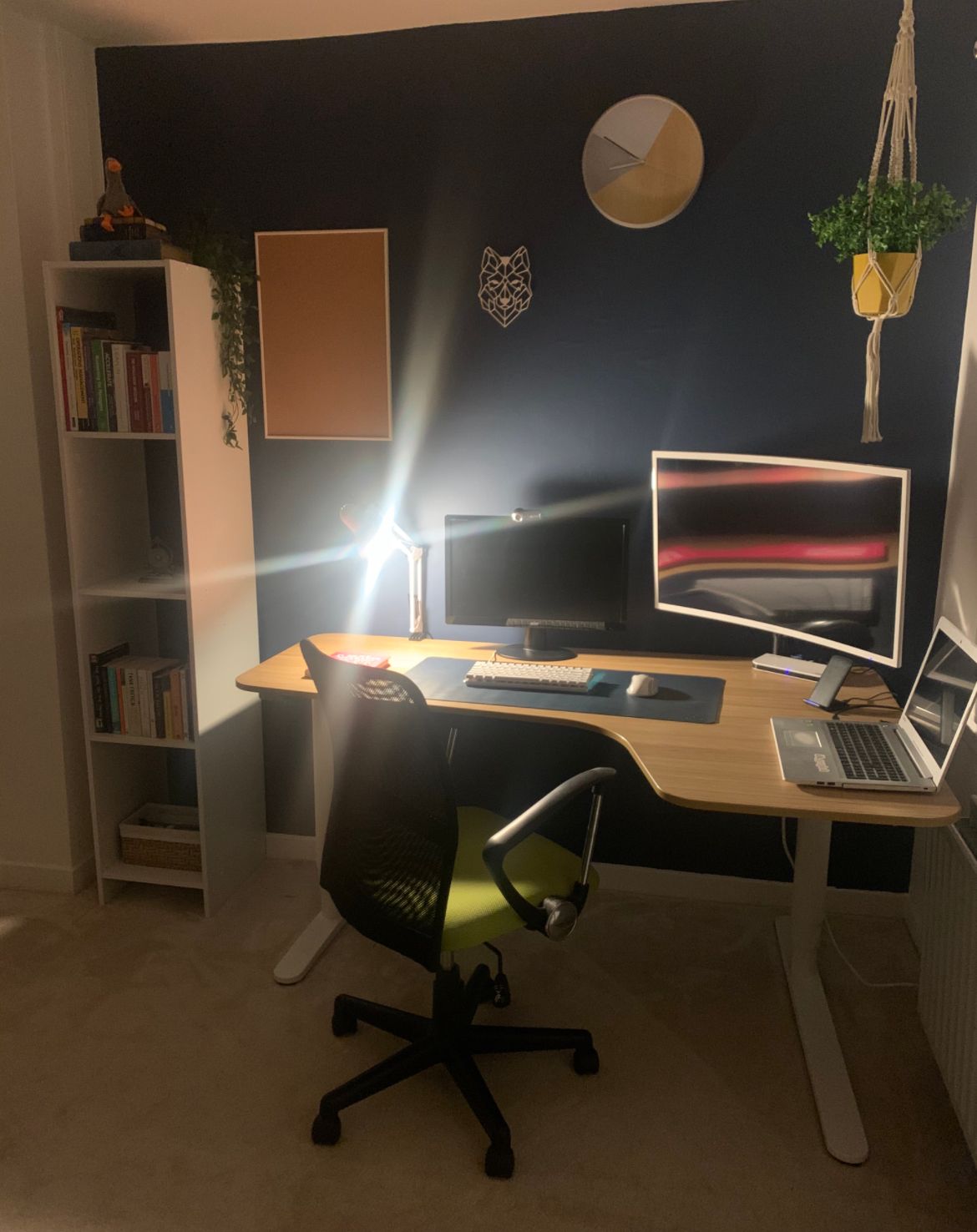 Below are a few of the designs I came up with as I was planning my geometric wall, followed by a timelapse to prove I painted the whole thing myself, and finally the finished product! I loved this wall, and it remained my Zoom background for over a year. 😄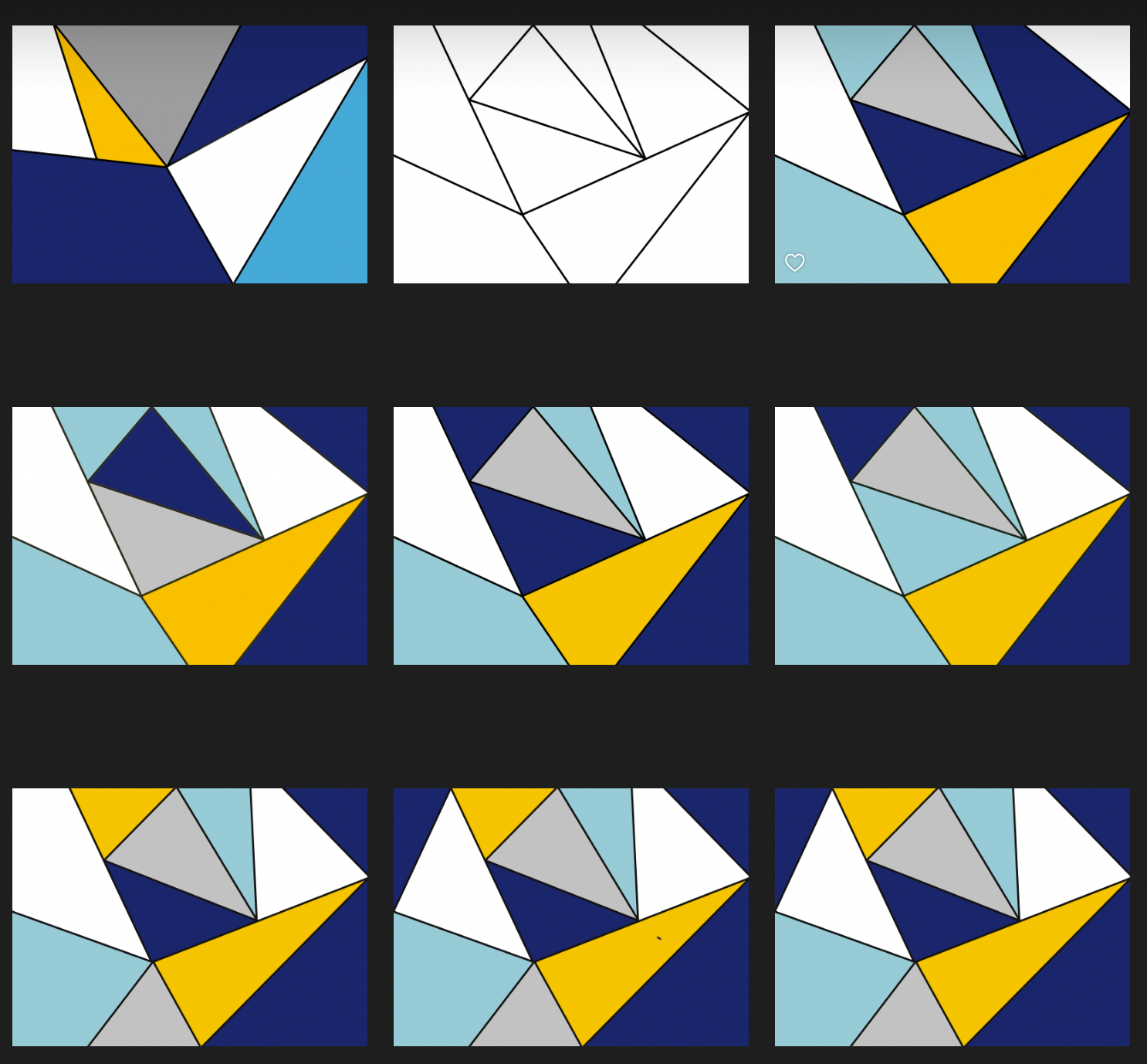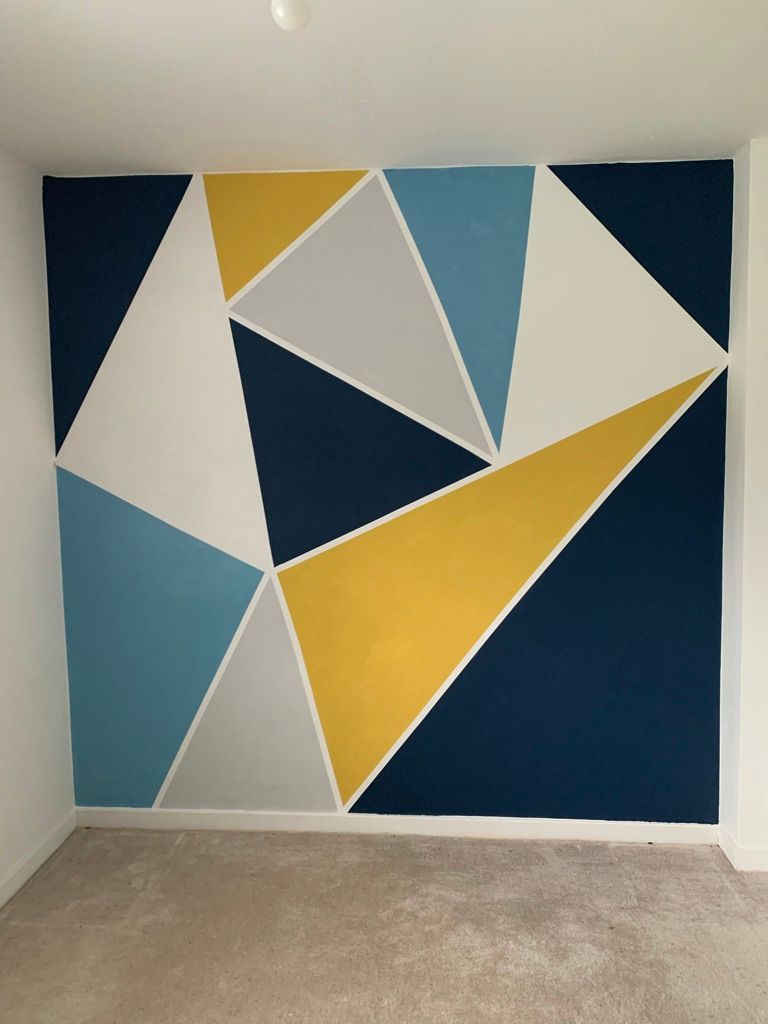 Then finally, my current set-up (at the top of this page)! I've mentioned this before, but these phases I've highlighted are just the high-level major changes that have happened. The upgrades have been iteratively happening over a few years, and now that I'm fully remote, the extortionate amounts of money I spent on Scotrail tickets have been channelled into improving my home office.
Win-win, no?
Thanks for taking the time to read this blog, I've enjoyed the process of improving my set-up and looking back at the change over the years.